As teased at the end of Super Art Fight NEO III this past Saturday night, this weekend's edition of the Never Ending Off-Season is a very special one.
The episode — titled Super Art Fight NEO IV: Championship Edition — serves two important masters.
The event will feature the crowning of the first ever Pixelweight Champion, a title to be defended exclusively on SAF NEO events, with the challengers competing decided upon based both on SAF NEO performance so far, and rankings within Super Art Fight proper, prior to our temporary shutdown.
In addition to the above, this event will be a very special charity event, supporting Baltimore's Ottobar, our live event home, which like all venues at this time, is going through significant hardships. Without the Ottobar, Super Art Fight wouldn't be what we've become, so we are very excited to support them in their time of need.

What can you expect this Saturday?
The Show
Super Art Fight NEO IV: Championship Edition will kick off live at 8:00pm (note the new start time!) Eastern on our Twitch channel, here. Hosted by our own Marty Day and Ross Nover, you can stream the show either in your web browser, or on countless apps — both for your mobile devices, and even your TV!
The event will consist of three bouts, which will be the following: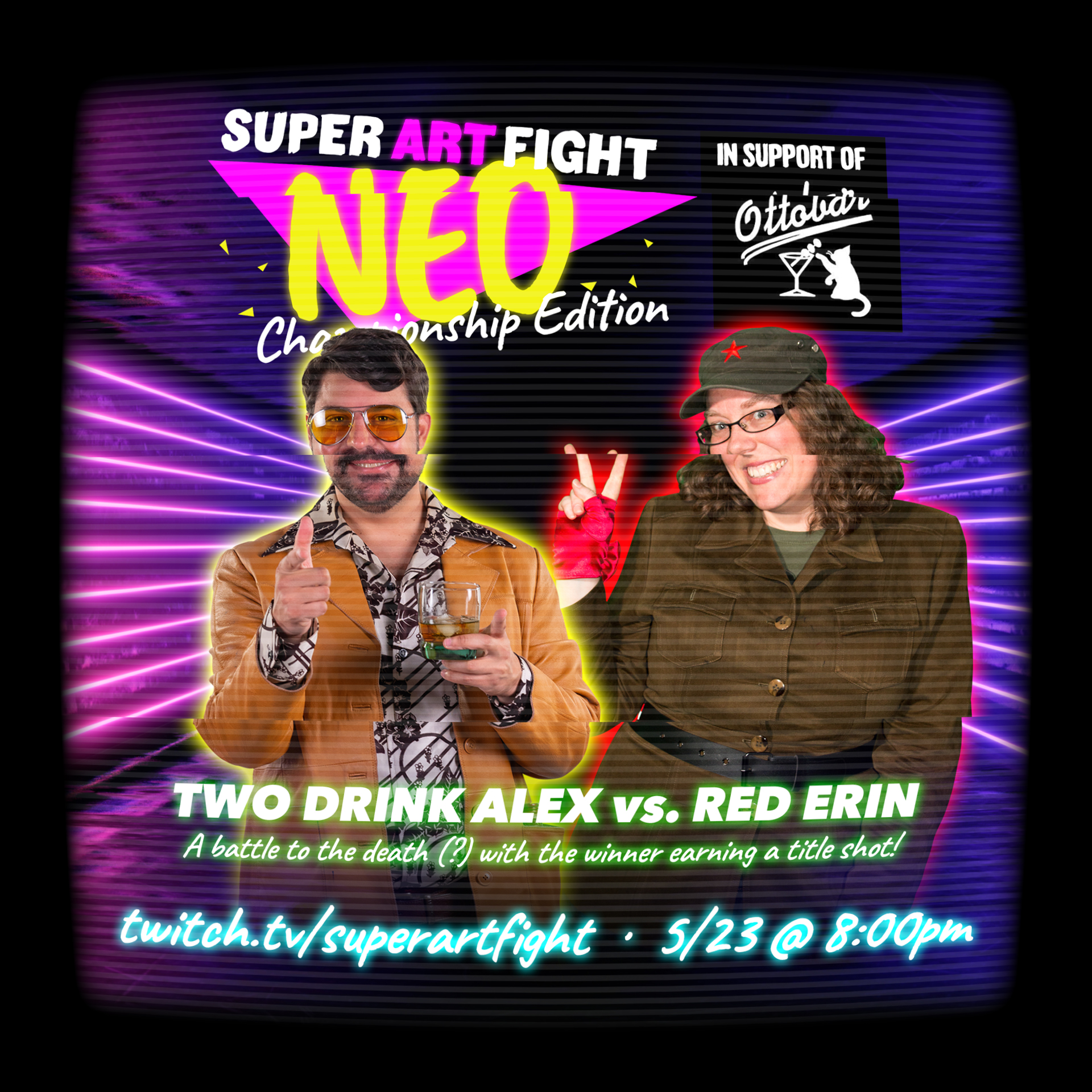 SAF PIXELWEIGHT TITLE QUALIFIER: Two Drink Alex (1-0) vs. Red Erin (1-0)
These SAF vets have continued their winning ways on the NEO canvas, having both been SAF Champions and SAF Tag Champions in Super Art Fight proper. Will Two Drink Alex be able to party it up toward victory, or will Red Erin kill him with kindness and place herself in the main event?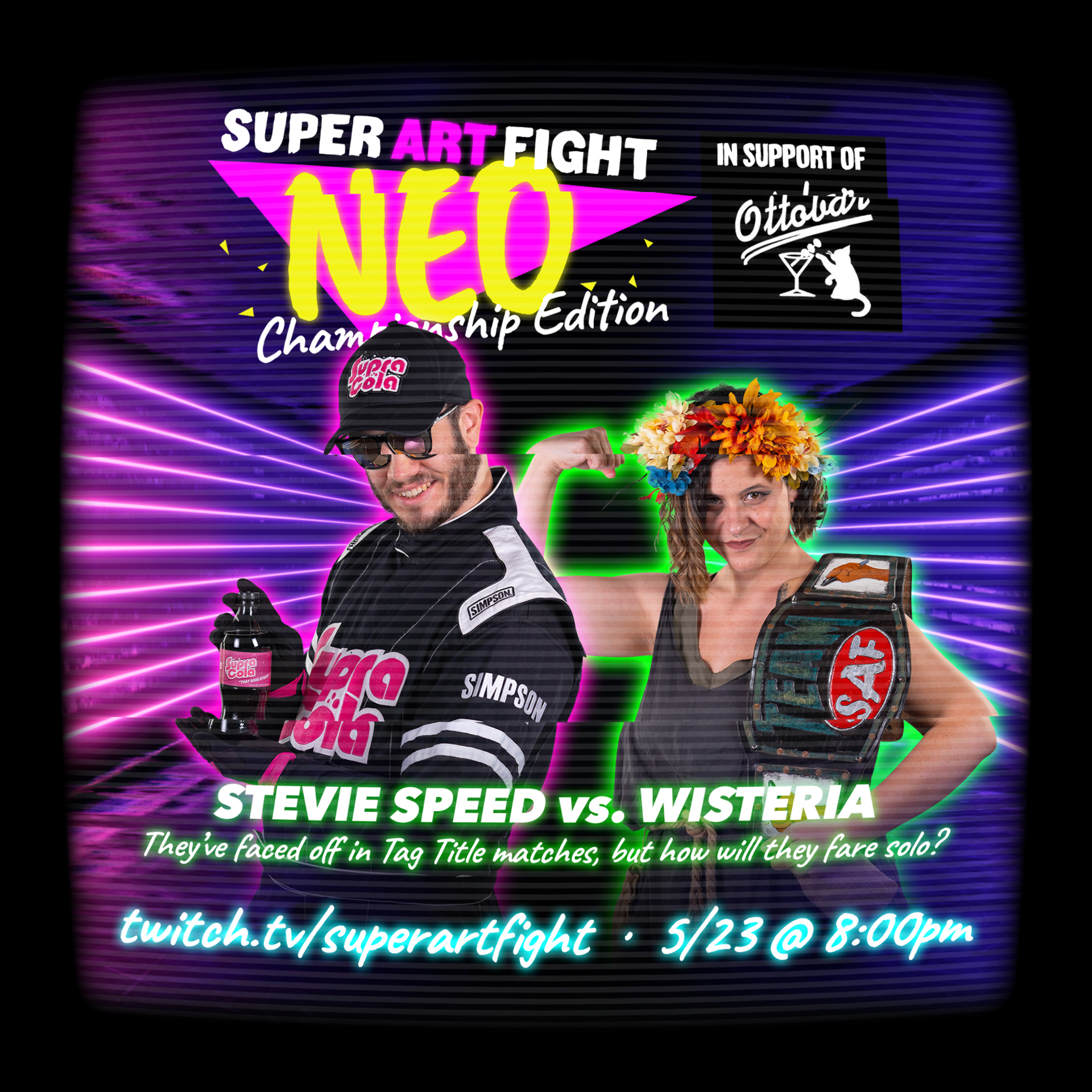 Exhibition Match: Wisteria (1-0) vs. Stevie Speed (0-0)
Stevie Speed makes his SAF NEO debut, and he's facing an artist he has no love lost with, one half of the SAF Tag Champions, Wisteria! Wisteria (as one half of Gods & Monsters) spent the last part of 2019 battling Stevie Speed (as one half of Sex Drive) for the SAF Tag Belts, with Gods & Monsters finally prevailing and getting their gold back at MAGFest 2020. Now, the battle continues in the digital realm! Can Wisteria continue her winning ways, or will Stevie Speed debut in the Winner's Circle?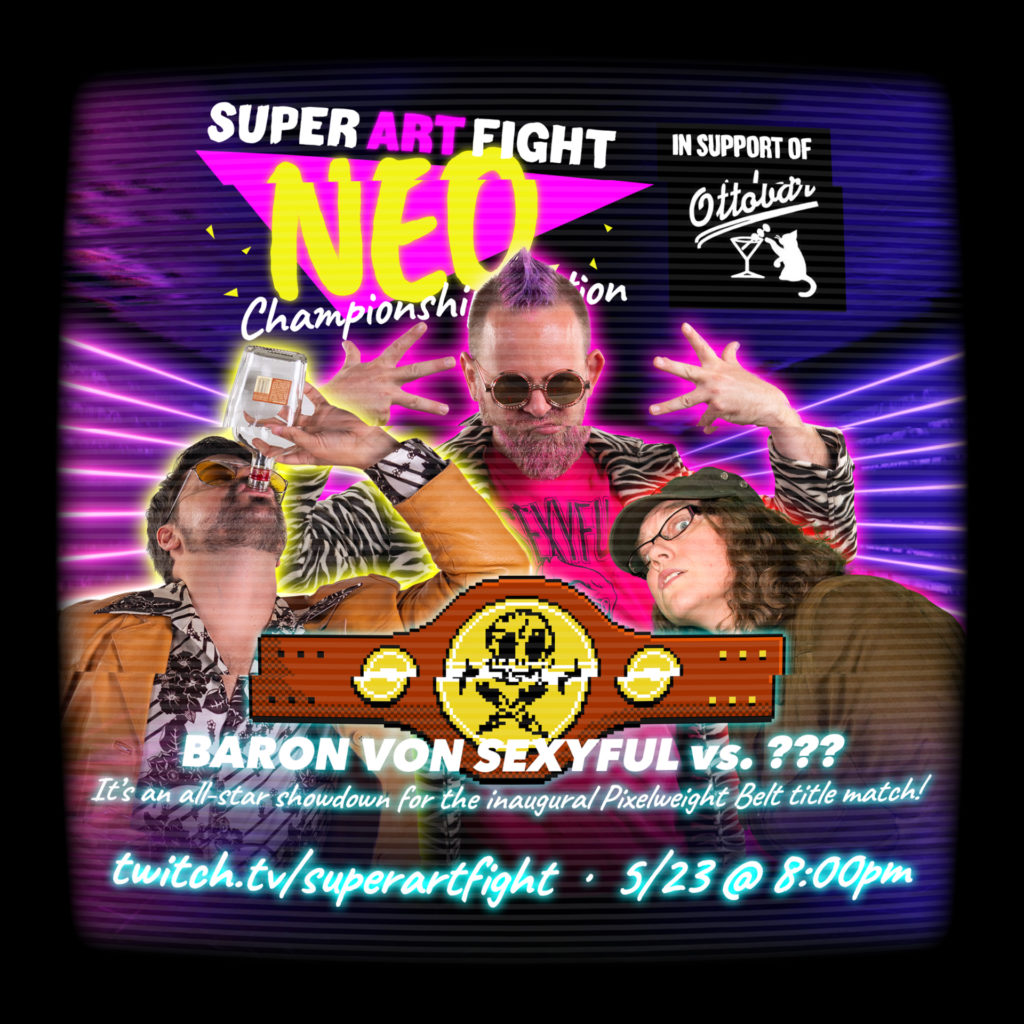 SAF PIXELWEIGHT CHAMPIONSHIP BOUT: Baron Von Sexyful (2-0) vs. ???
The decision of the opening bout leads directly to the path of our main event. Baron Von Sexyful, perennial Super Art Fight fan favorite, has been the only SAF roster member to have a 2-0 record in NEO events, allowing him to saunter directly into this main event, but no matter who wins, he faces one of two long-term thorns in his side: Red Erin, or his former tag partner, Two Drink Alex. Will the winner of Bout 1 be able to fight past the fatigue and bring down the Baron? Or will the Sexyful era of SAF NEO begin this Saturday?
The Cause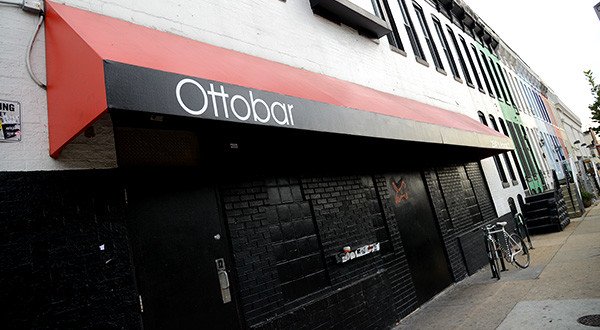 As said above, Saturday's stream is to benefit Baltimore's Ottobar, as voted by Rolling Stone as one of the 10 Best Live Music Venues in America, and you can contribute to the cause in one of two ways:
You can make a purchase, even now, at The Ottobar's Shopify page, which includes great Ottobar swag, and also the ability to donate direct to the Staff in $5 and $10 increments
We'll also be premiering a very special Super Art Fight x Ottobar T-Shirt, as designed by our own Margaret Huey (DIETANIUM). This will be a special pre-order, printed exclusively to order, with all profits going DIRECTLY to the Ottobar. Stay tuned to SuperArtFight.com and our social media for a preview of the final shirt design and a link for where you can buy – it's really something special.
Like we said, Saturday is going to be a very important night, and what we need is you. Join the fun on Twitch this Saturday, help us support a legendary music venue, and join us as we crown our first ever Pixelweight Champion!