You know, it's funny – we started this Never Ending Off-Season as a way to keep reps up between live events. We never thought it'd become a true pillar of Super Art Fight itself.
And yet, here we are, twenty weeks in, as #SAFNEO 10 is ready to hit the Twitch airwaves on Saturday Night, August 22, 2020 at 8pm Eastern.
We've got another stacked show, including yes – another guest artist – and we're excited to see you live in the chat!
What's going down on Saturday? Here's your card.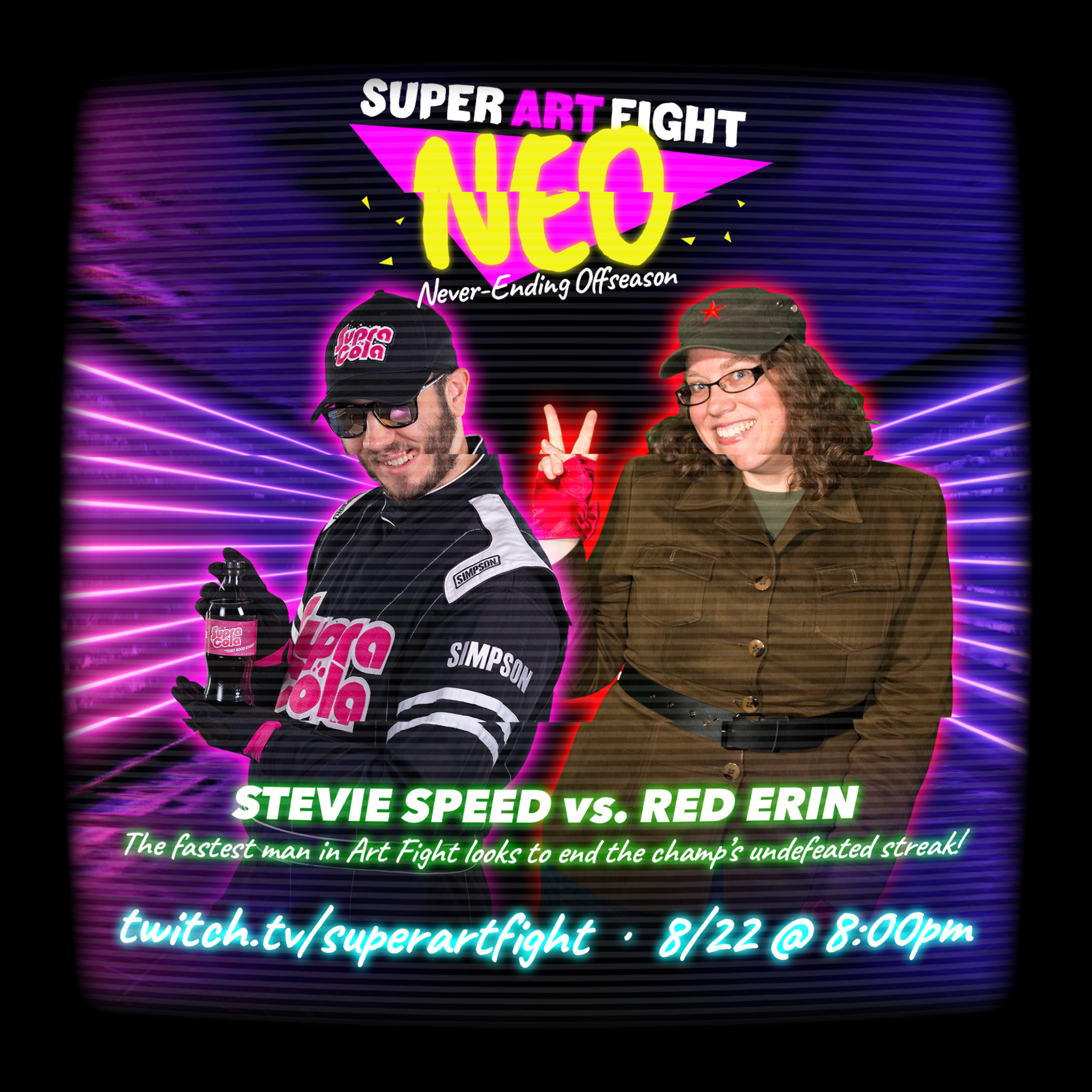 Stevie Speed (1-3) vs. Red Erin (6-0-1)
Red Erin has officially broken the tie, defeating Rave Royale in the long-awaited tie-breaker Pixelweight Title match. But she rests not on her laurels, as she heads full speed into a non-title clash with SAF's resident racing pro, Stevie Speed! Stevie wants to get on the winning side of things, and you have to believe a checkered flag here will place him in line for a Pixelweight Title opportunity in the future! Can he find his way into the winner's circle?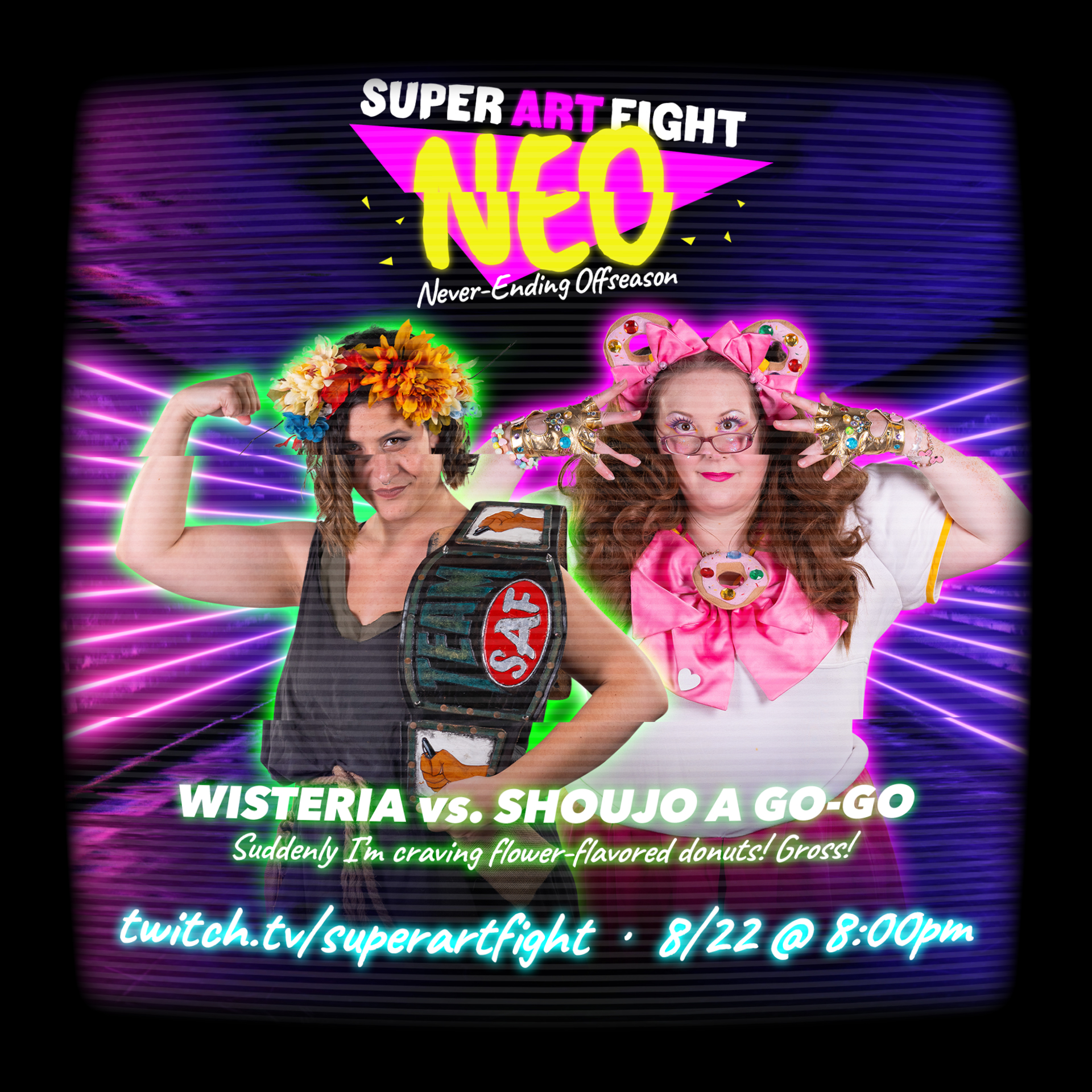 Wisteria (3-1) vs. Shoujo-A-Go-Go (1-4)
This throw down of SAF fan favorites is sure to split the chat, as two of the most beloved – and most positive – art fighters collide. The fall season is fast approaching, meaning Wisteria is close to full power, but Shoujo-A-Go-Go is powered by donuts and will be bringing the sugar high to #SAFNEO Saturday night. It's anyone's game, but only one can win!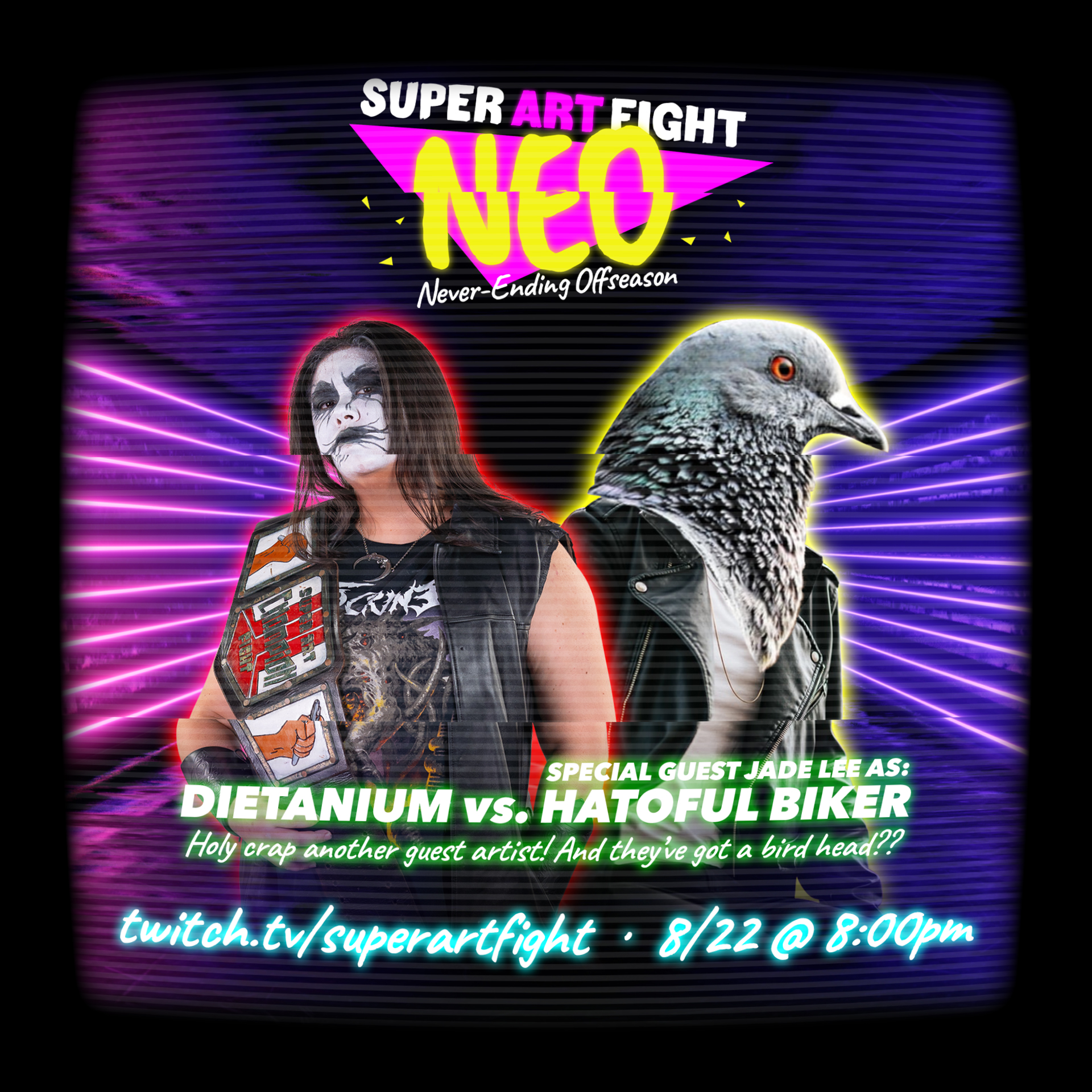 DIETANIUM (2-6) vs. Hatoful Biker (0-0)
DIETANIUM continues to find herself in interesting times. The SAF Champion hasn't put up the most winning record in the #SAFNEO realm, and last time found herself face to face with beloved webcomicker Danielle Corsetto, as our first guest artist. Once again, DIETANIUM collides with a special guest, as comic artist Jade Lee makes their Super Art Fight debut. But Lee, like many of our artists, has found themselves changed forever upon entering the SAF circuit – now a DIETANIUM-loving biker pigeon named HATOFUL BIKER. Where else can you see such action? Nowhere else but #SAFNEO, this Saturday!
It's another wild wild night, and the whole thing will be hosted by our own Michael Bracco and Megan, and we'll find out what the hell happened to Referee Adam!
Join the fun this Saturday!