Since April 2020, Super Art Fight has been truly honored to present you the Never-Ending Off Season, or as it has become known, Super Art Fight NEO.
This Saturday Night, the NEO era comes to a close, with #SAFNEO12.
What does that mean? What's next for us?
We'll announce LIVE on Twitch, this Saturday Night.
But, as things tie up, we've got a hell of a lineup underway for Saturday, September 19, 2020. Here's what you'll see.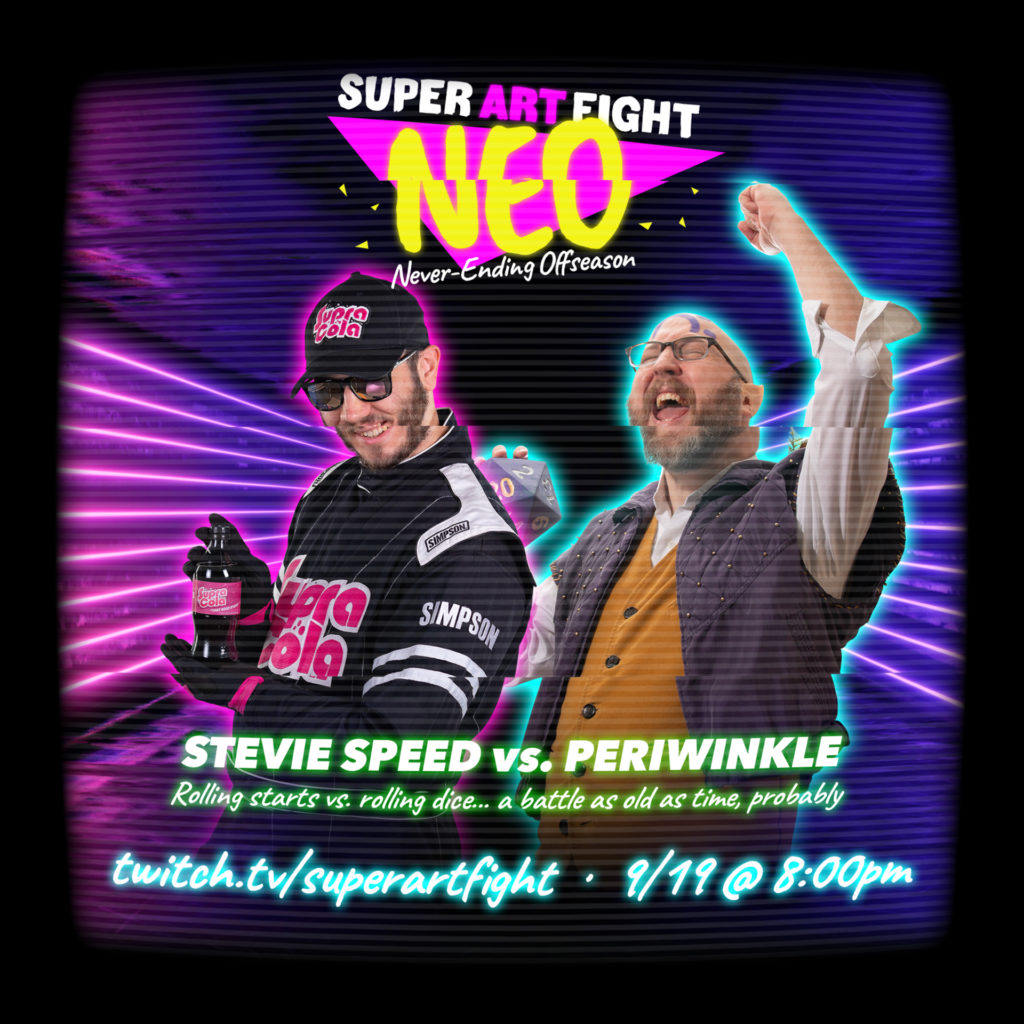 Stevie Speed (2-4) vs. Periwinkle (2-1)
Where else but Super Art Fight are you going to see a race car driver battle a time-displaced medieval wizard? OK, beyond the times that a NASCAR race takes place next door to a Ren Fest.
Yeah, that's what we thought. The battle of cars and magic hits Twitch this weekend!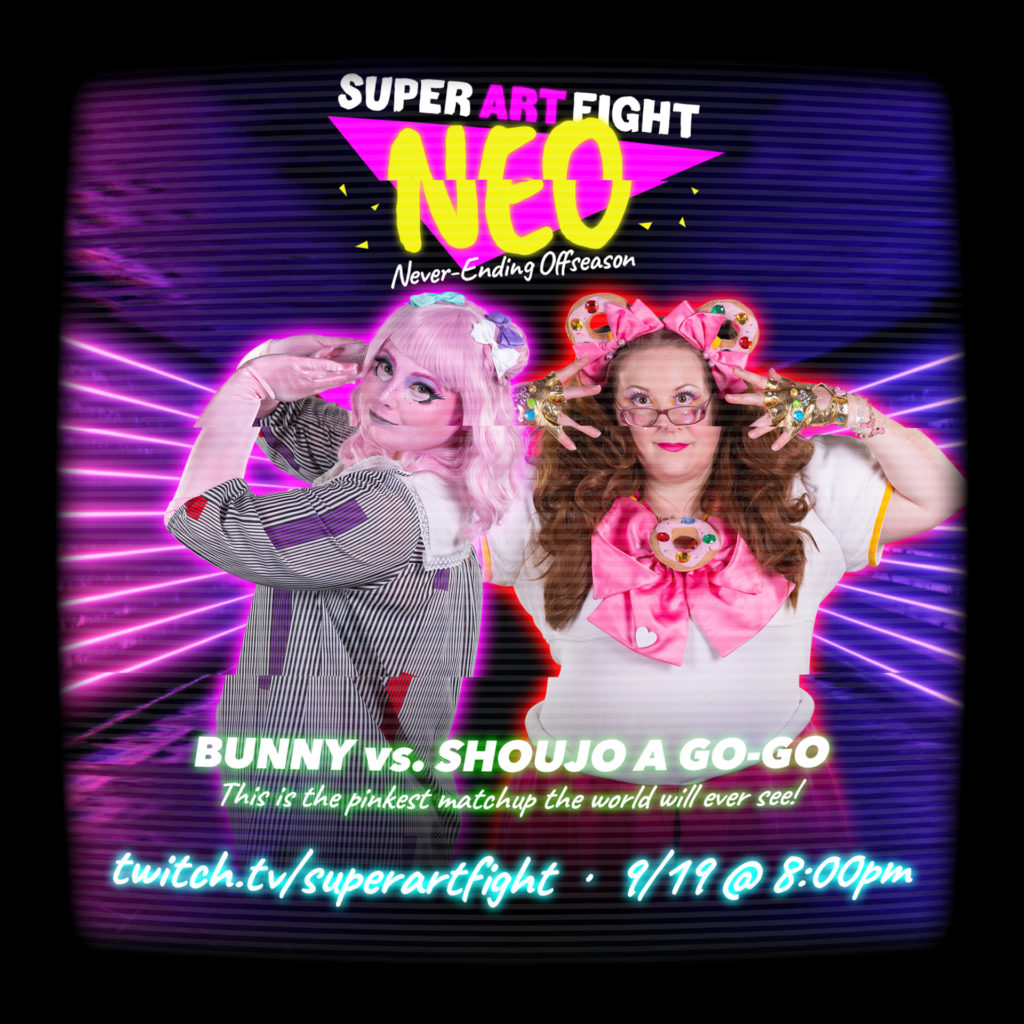 Bunny (2-2) vs. Shoujo-A-Go-Go (2-4)
In another world, at another time, Bunny and Shoujo would be the best of friends, what with their shared love of the color pink and all things cute and adorable. This Saturday, however, they will instead collide in artistic combat. Will a shared love bloom on the battlefield? Or will we see these typically cute combatants get bloody? Find out live on Twitch!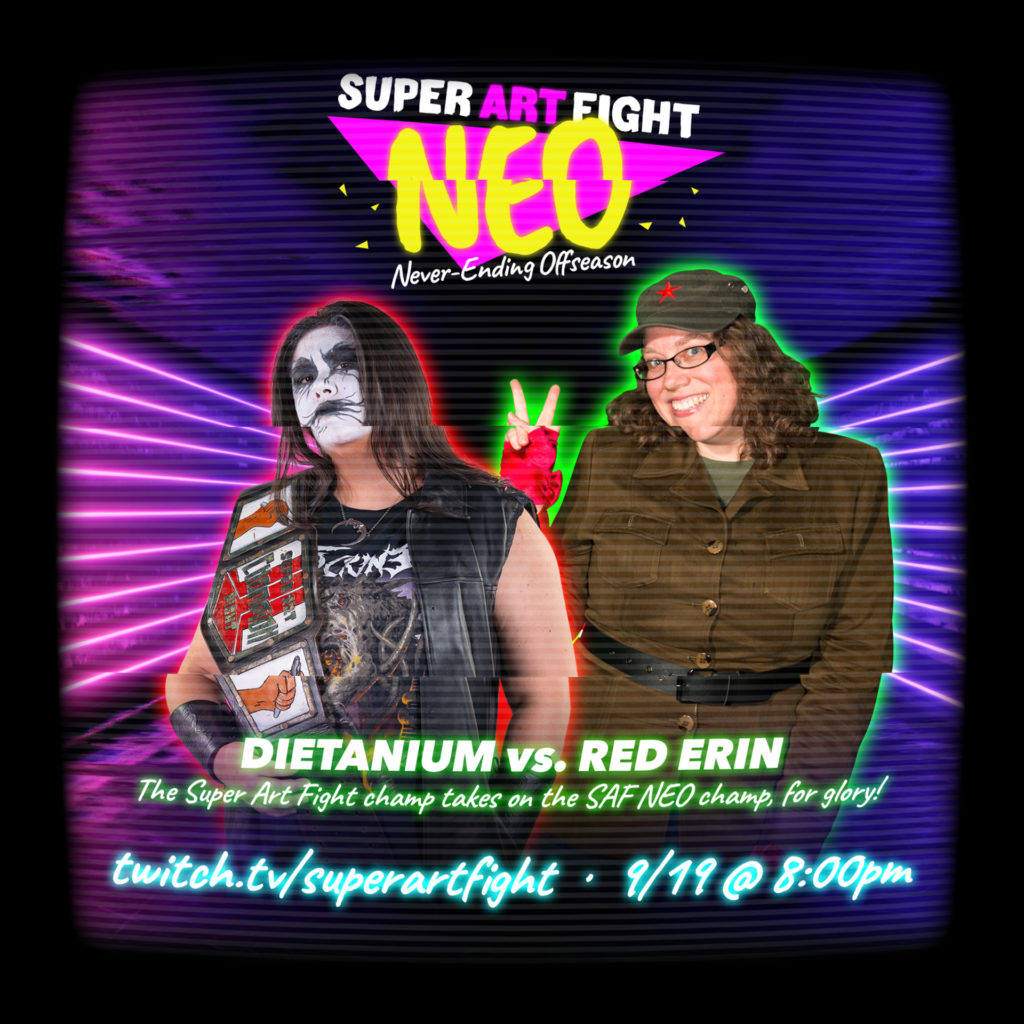 DIETANIUM (2-7) vs. Red Erin (7-0-1)
What better way to send off #SAFNEO than a CLASH OF CHAMPIONS?! The hard rocking DIETANIUM has proven herself a master champion on stage, but hasn't had the same results on the digital canvas…but has found herself on the upswing, finally stringing together wins in recent weeks. On the other side, the inaugural Pixelweight Champion, Red Erin, has been unbeatable in SAFNEO competition, and looks to close by showing that her championship is superior. No titles on the line, only pride — but someone will be feeling the pain this Saturday night!
Want to join the fun this weekend? Want to be the FIRST to find out what's next for Super Art Fight? You know what to do…