Ladies and Gentlemen, the Super Art Fight NEO era has ended.
The Never-Ending Off Season has come to a close.
And on Saturday Night, October 24, 2020, we start anew, as Super Art Fight ONLINE Season 1 launches on our Twitch channel!
It's become increasingly clear that this Online evolution of our show is not just a passing trend, but instead a new pillar upon which artists will build their destiny, and we now move to a season based format.
What's in store for this season? More of the Super Art Fight combat you love, adjusted to the digital realm — but more than that, this first season has at its core a Super Art Fight event unlike any other: the first ever five artist round-robin tournament in SAF history!
This tournament will be the linchpin of Super Art Fight ONLINE Season 1, and we've got an incredibly impressive line-up for you.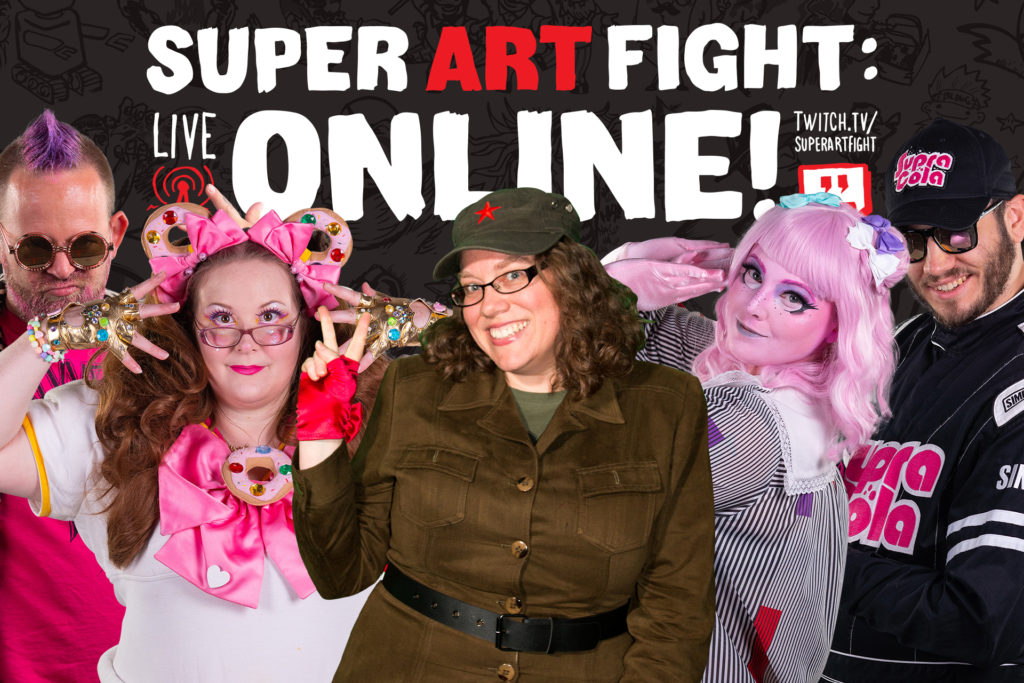 Baron Von Sexyful – SAF legend, multi-time singles and tag team champion, an absolutely unforgettable competitor who leaves artists in his wake.
Shoujo-A-Go-Go – The donut fueled delight gets ready to throw down in an SAF tournament unlike any before.
Bunny – We had to go big, reaching out to OUTER SPACE to bring this unconventional competitor to our stratosphere for this Earth-Shattering throw down.
Stevie Speed – While the check from Supra Cola didn't hurt, SAF's resident racer's involvement in this tournament is an indication of his increased aggression on the canvas — even if he sometimes throws it more at our hosts than his opponent.
And last, but not least, Red Erin, the undefeated SAF Pixelweight Champion, who blew us all away during the Never Ending Off-Season, and intends to show the world her winning streak wasn't a fluke.
For five episodes, these artists will collide in one-on-one match ups (one artist getting a bye week, per week), and then the winningest competitors collide in our season finale. But if that wasn't enough, each episode will feature a non-tournament match, featuring the breadth of talent you've come to know from Super Art Fight.
What's the lineup for week one? Who else will appear on these shows? Stay tuned to SuperArtFight.com and all our social channels for the latest, but if you want to watch the action as it airs, you know there's one thing to do…