We promised you the beginning of something special, and we're ready to kick it off right, as Super Art Fight Online Season 1 begins LIVE on Twitch, Saturday Night, October 24, 2020 at 8pm Eastern.
As promised, each episode is anchored by two bouts which are a part of our 5 artist round-robin tournament, running all season long, plus one extra bout of non-tournament action.
Here's what's scheduled for our first episode!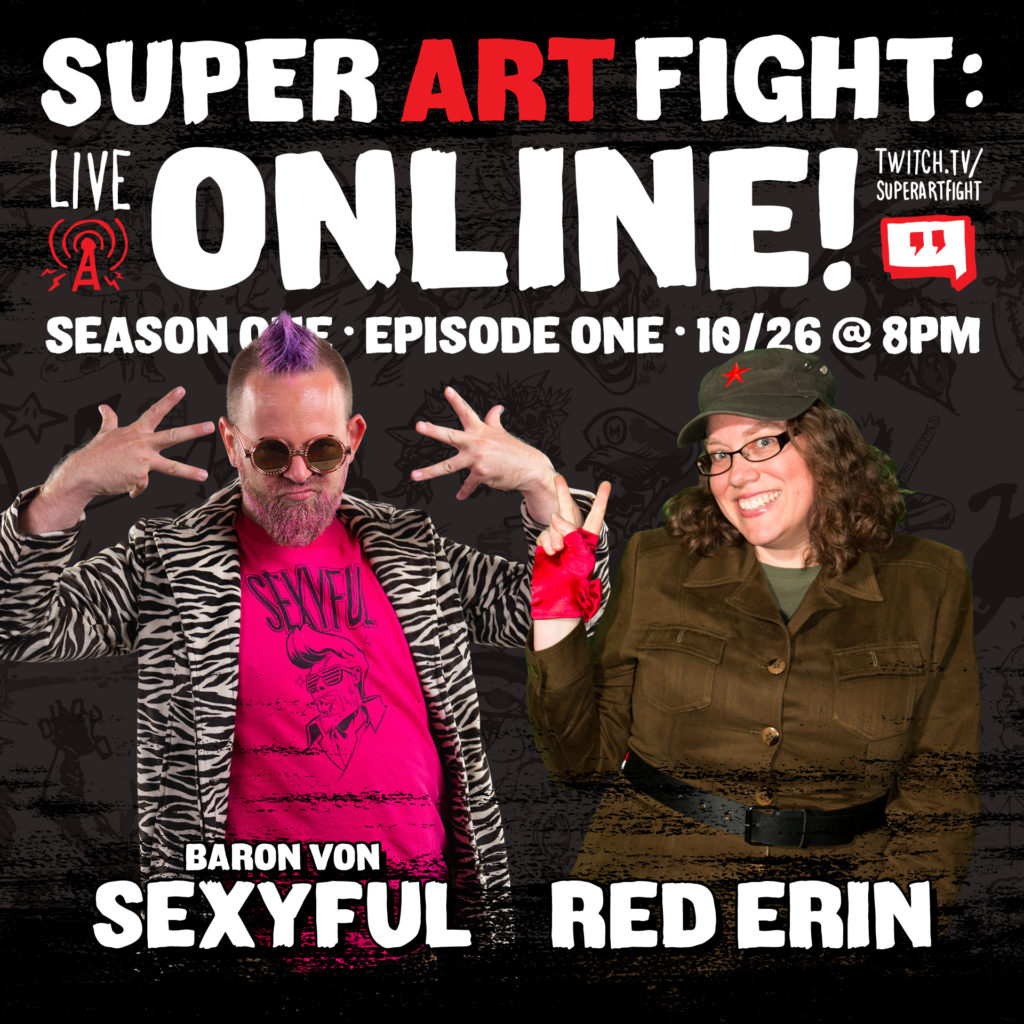 Baron Von Sexyful vs. Red Erin
The match which decided the first-ever Super Art Fight Pixelweight Champion kicks off the round robin tournament, as two unstoppable SAF legends collide to start this new era! One of Baron Von Sexyful's few losses during the Never Ending Off-Season was at the hands of Red Erin, and you have to believe he wants to kick off this new season with a victory.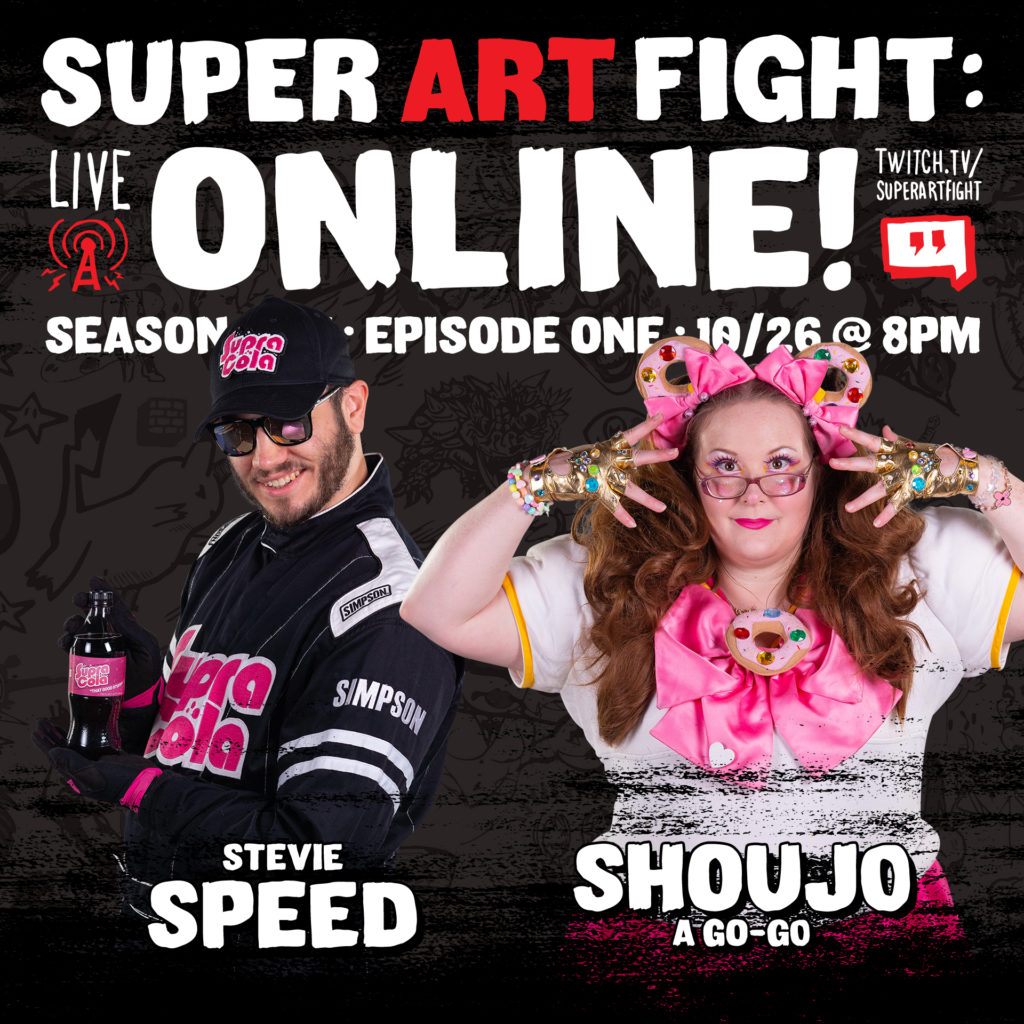 Stevie Speed vs. Shoujo-A-Go-Go
If there is a battle of contrasts during the round-robin tournament, it is this one. Made of gumdrops, goodness and everything else shiny, Shoujo-A-Go-Go is a sugary-sweet ray of sunshine, whereas the egomaniacal Stevie Speed is focused at victory at any costs, so long as his sponsorship checks keep clearing. Can Shoujo shine her way to victory, or will Stevie Speed be in pole position after Episode 1? Find out live on Twitch!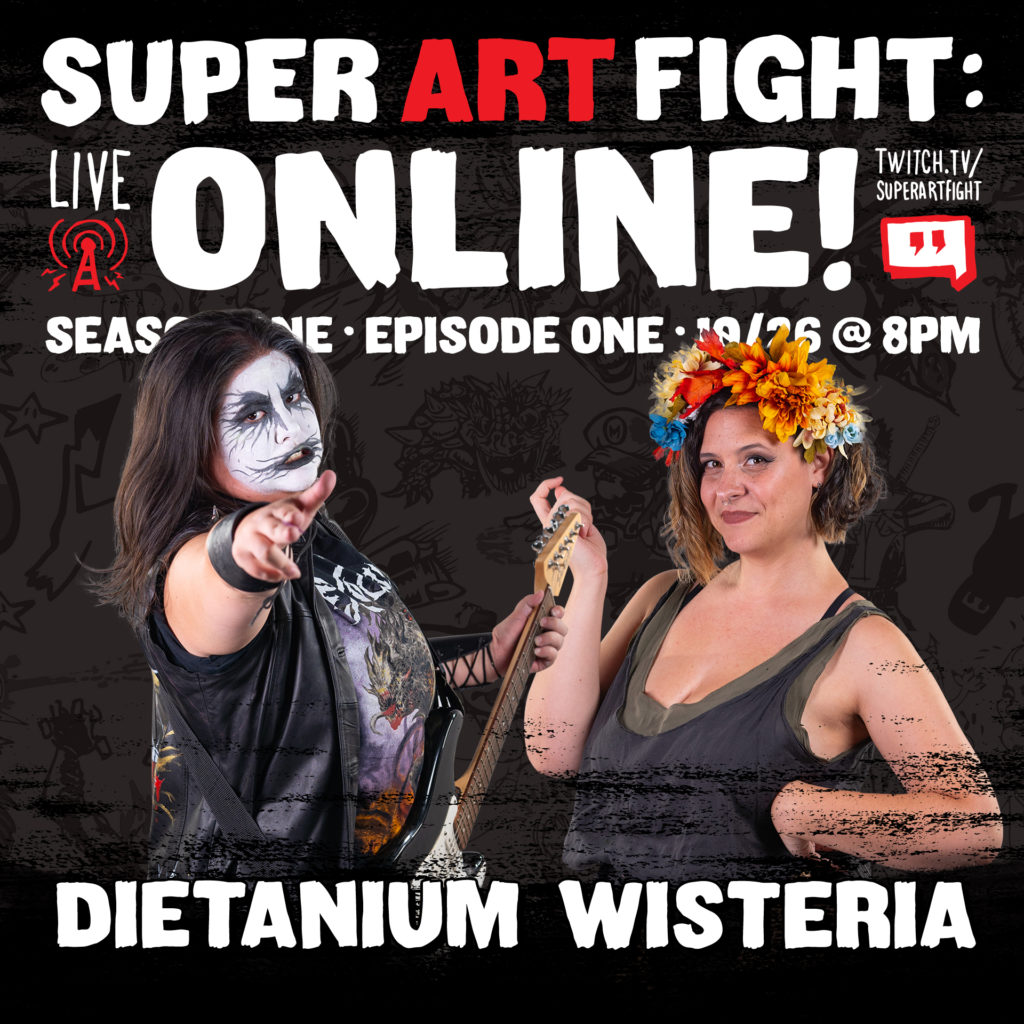 DIETANIUM vs. Wistera
The transition from the stage to the digital realm was a tough one for our Super Art Fight Champion, DIETANIUM, as she went from being on top of the mountain in front of live audiences for battling to stay above the bottom during the NEO-era. That said, as our time on Twitch increased, the love of the fans grew for our resident metal god, which makes one wonder if the momentum remains. But when it comes to momentum, few have stronger momentum than our resident nature goddess, Wisteria! Wisteria strung together a series of impressive victories as the season went on, and you have to believe, a win over the SAF Champion would launch Wisteria in the overall rankings.
3 bouts, 20 minutes each, one night. All we need is you.
Join us LIVE on Twitch, Saturday Night, October 24, 2020 at 8pm Eastern as we kick off Super Art Fight ONLINE Season 1!
Follow Us on Twitch!