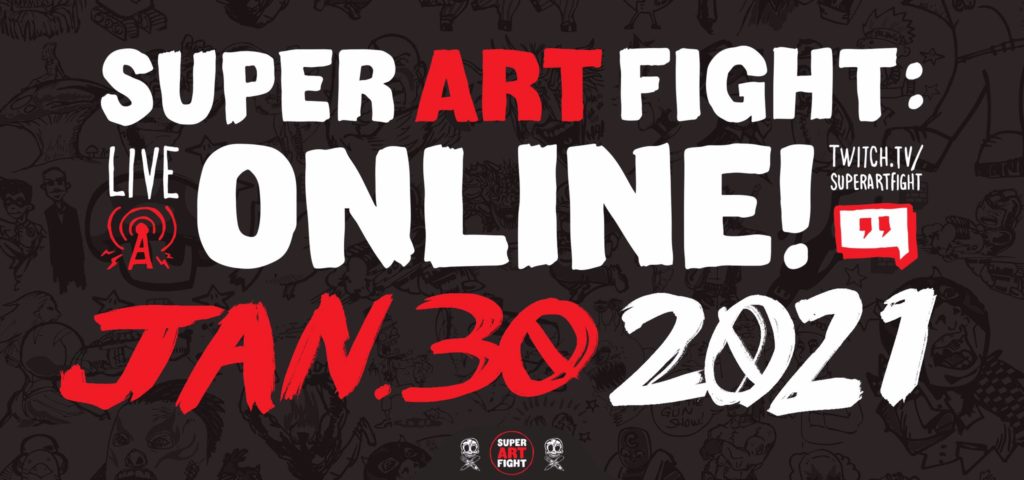 That's right, Super Art Fans, the time you've been waiting for has arrived as Super Art Fight ONLINE Season 2 finally begins this Saturday Night, January 30th LIVE on Twitch at 8pm Eastern.
Last season saw Red Erin come from behind and win the first ever round-robin tournament in an amazing show of artistic resiliency, and on Saturday, a new chapter will be written in the annals of SAF history as eight artists collide and the first ever ELIMINATOR tournament begins.
---
Who's on deck?
For Season 2's showcase ELIMINATOR tournament, eight artists have been selected. They are as follows:
Returning from #SAFONLINE Season 1's Round Robin Tournament, Bunny and Stevie Speed
Returning from the Super Art Fight Non-Denominational Holiday Spectacular, the beloved new personas, Your Uncle Al, Groovy, and Atropia Belladonna
Super Art Fight fan-favorite, and first-time tournament entrant Rave Royale
Super Art Fight Champion DIETANIUM
And, returning to Super Art Fight, former SAF Champion, former SAF Tag Team Champion, and ruler of the Principality of Cardstock, General Stormsketch
---
What does the tournament look like?
Great news, we've got this handy-dandy bracket image for you.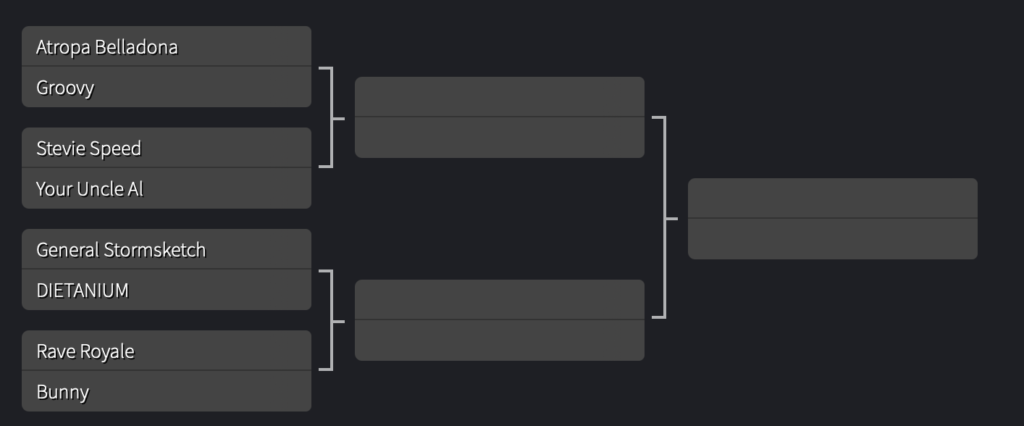 ---
What's the card for Saturday?
Aren't you full of questions!
Saturday's show will include battles from different sections of the ELIMINATOR tournament, as Atropia Belladonna will take on Groovy, and DIETANIUM faces General Stormsketch, in a rematch of our last Ottobar appearance, way back in November 2019. (We hate COVID, don't you?)
In addition to those ELIMINATOR tournament throw downs, we'll also feature non-tournament action, as space faring creator Amazon Acmoore takes on our resident magical girl / donut lover, Shoujo A Go Go.
---
Give it to me in an easy to read format.
No problem!
Super Art Fight ONLINE: S2E1
Saturday, January 30, 2021 – 8pm Eastern, LIVE! on Twitch
ELIMINATOR TOURNAMENT OPENING ROUND: Atropia Belladonna vs. Groovy
ELIMINATOR TOURNAMENT OPENING ROUND: DIETANIUM vs. General Stormsketch
NON-TOURNAMENT ACTION: Amazon Acmoore vs. Shoujo-A-Go-Go
---
How do I join the fun?
Easy! Follow us on Twitch here, and then join the chat right at 8. Cheer on your favorites in the chat, throw those emotes, and vote your favorites to victory!
See you on Saturday Night!