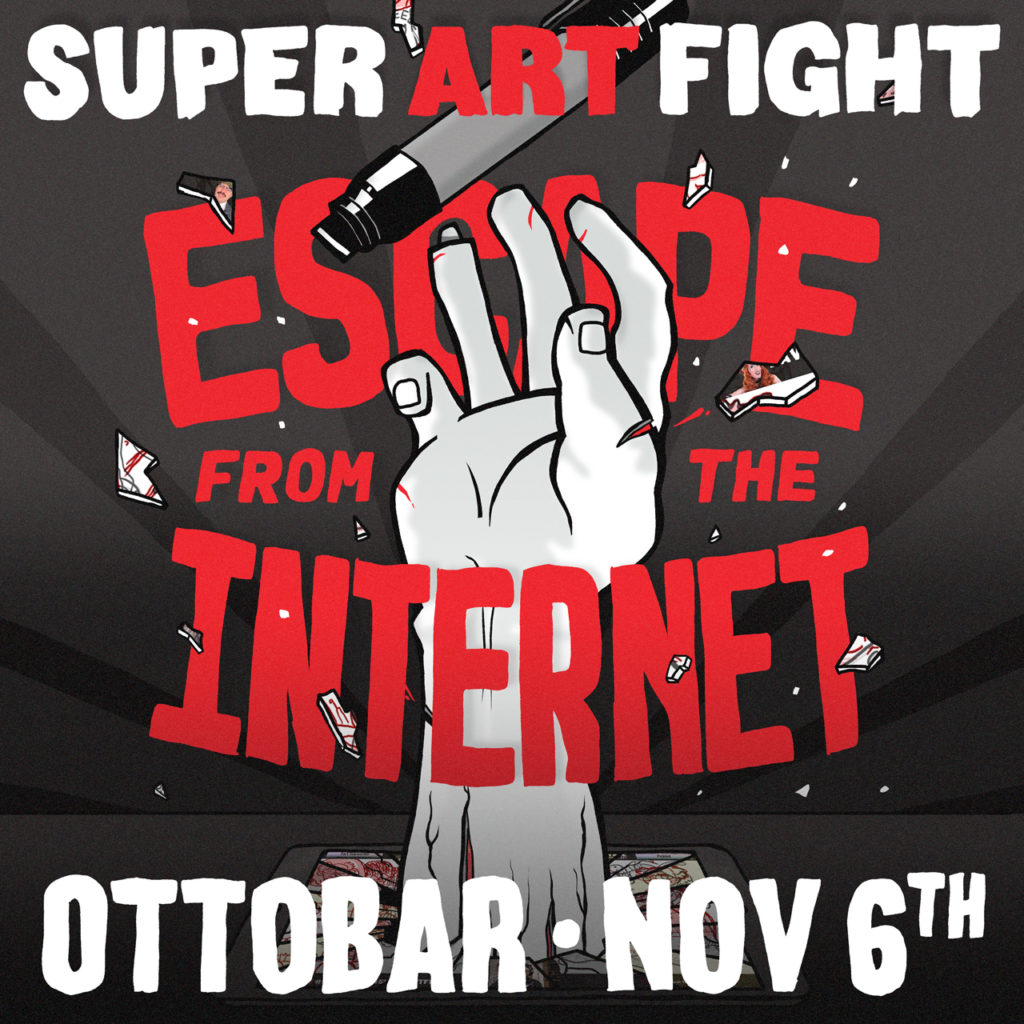 It's a grand day to be a Baltimore native because the Super Art Fight, the greatest art fight in the known universe, is returning to the ONLY watering hole awesome enough to contain this level of flair and skill: our friends, your friends, and a friend to Edgar Allen Poe himself: The Ottobar!!
Saturday, November 6th. Doors open at 8pm, show kicks off at 9pm as we present,SUPER ART FIGHT ESCAPE FROM THE INTERNET
That's right, and if you want to plug your excited face into the screaming mob that is sure to sell out faster than a Sharpie dries on a white board: Tickets are on sale RIGHT NOW! Only $15 a face. Click here to get your tickets!
That's like, soon! Soon-soon! Not "I am waiting to see what's going on in the next generation of the Lego Star Wars sets." Don't wait! Only $15, that's less than a hot dog at Camden Yards. You can't find a deal this great at a venue this grand in the City of Charm. Super Art Fight was founded in 2008 during a tragic experiment gone awry leading to the greatest art fight known to man. They have been performing in venues both great and small from peoples living rooms to giant expos; both locally and on the bloggo-tubes. But we have broken from our viral chains to share the oxygen with you, our Super Art Family, at our home away from home (yet still not tax-deductible) Ottobar.
Artists? We got 'em. Topics? We need 'em. Submit YOUR Wheel of Death ideas RIGHT NOW and maybe you'll get to brag to your grandchildren someday when your idea is sacrificed to the marker gods and splattered on the canvas.
Your hosts, as always, are the incomparable Marty and Ross, now 20% more sanitized for your affection. Line up in the making: follow our Twitter, Instagram, and Facebook feed to see your favorite local artists and support them!
Put on your happy mask, and meet us on November 6th:
The Ottobar
2549 N Howard Street
Baltimore, MD 21218