The Greatest Live Art Competition in the Known Universe, Super Art Fight continues to strive to be the Greatest Live Art Competition on The Internet as well, as the Never Ending Off-Season continues on Saturday Night, July 25, 2020, with Super Art Fight NEO 8!
The excitement goes into overdrive this Saturday as we've got three amazing bouts including fan favorites and a long awaited one-on-one rematch for the Super Art Fight Pixelweight Championship, where THERE MUST BE A WINNER.
What will you see live on Twitch this Saturday? Read on, if you haven't already scrolled down to the awesome matchup photos.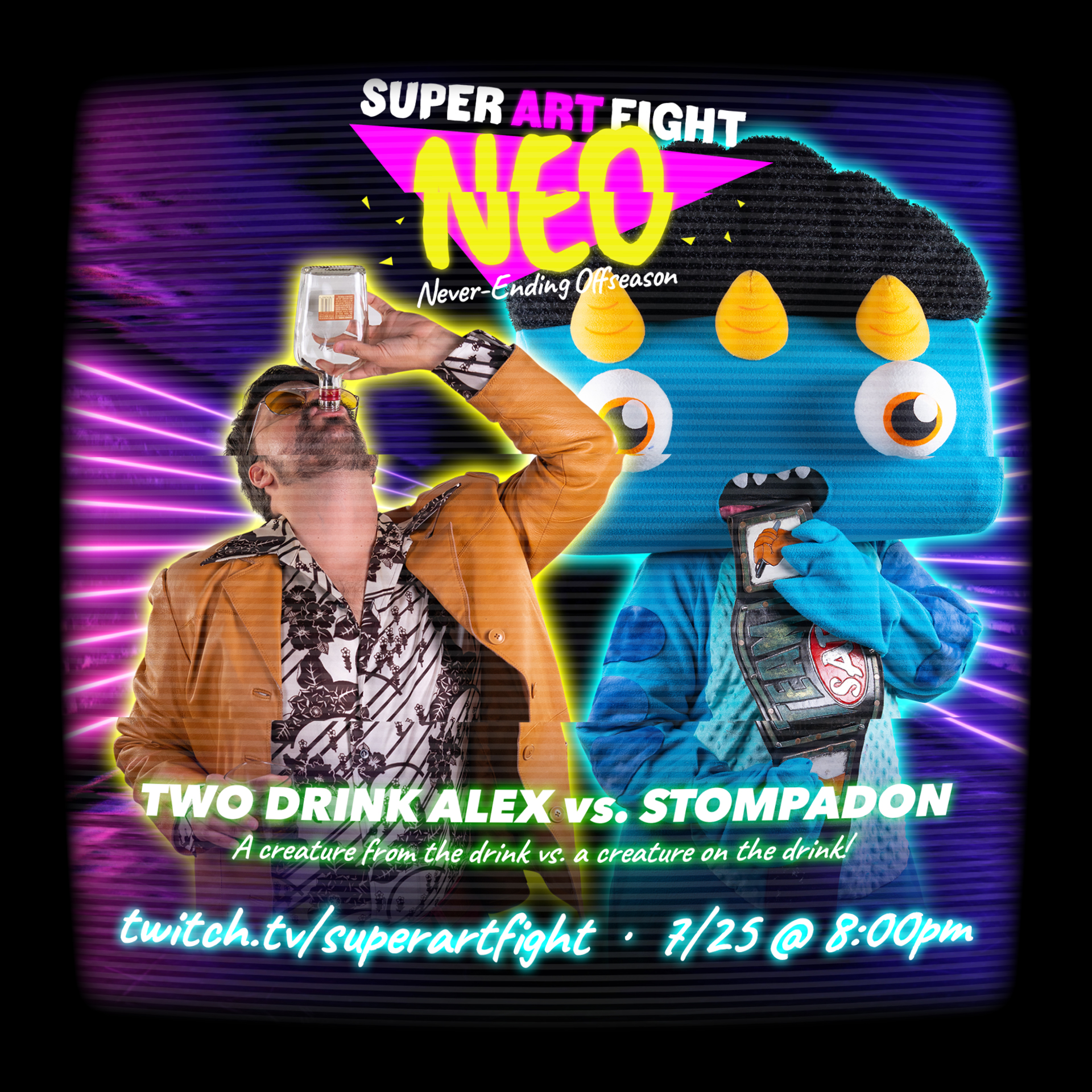 Stompadon (1-0) vs. Two Drink Alex (1-1)
Stompadon, having recently made its SAF NEO debut at Super Art Femme on July 11th, looks to continue to bring that awesome kaiju-y goodness to the digital realm. On the other side of the canvas, they face a man who loves a drink, and also a Japanese film: Two Drink Alex. Will his unstoppable love for all things Japan allow Alex to take down the Kaiju? Or will Stompadon leave a lasting impact on Twitch this Saturday Night?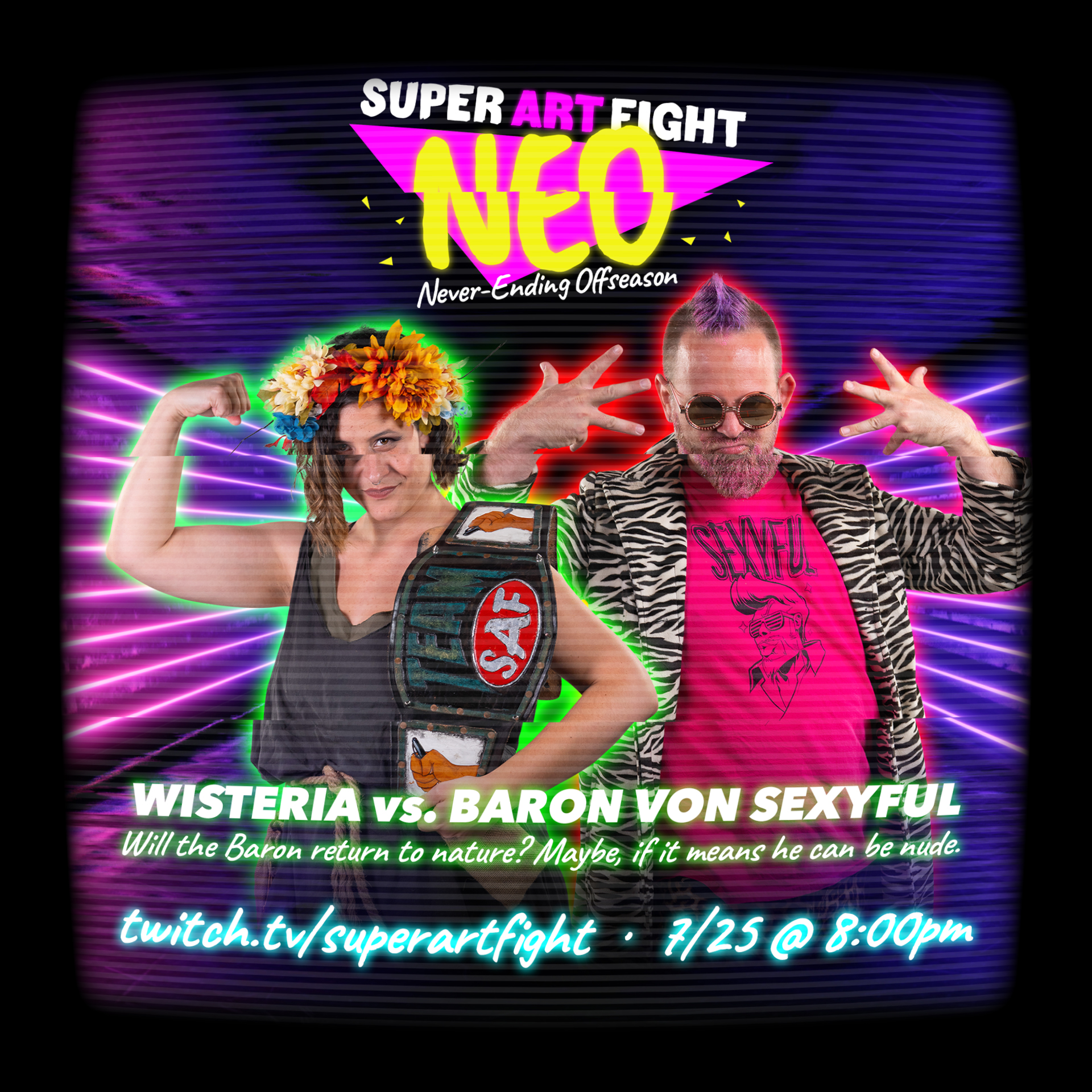 Wisteria (3-0) vs. Baron Von Sexyful (4-1)
It's a battle of fan favorites, as Wisteria and Baron Von Sexyful once again find themselves on opposite sides of the canvas. The end of 2019 into early 2020 found them battling in tag team title matches, but what happens when there's no one to tag in? Can the nature goddess keep her winning ways in SAF NEO, or will Baron Von Sexyful, like his butt, be unable to quit?!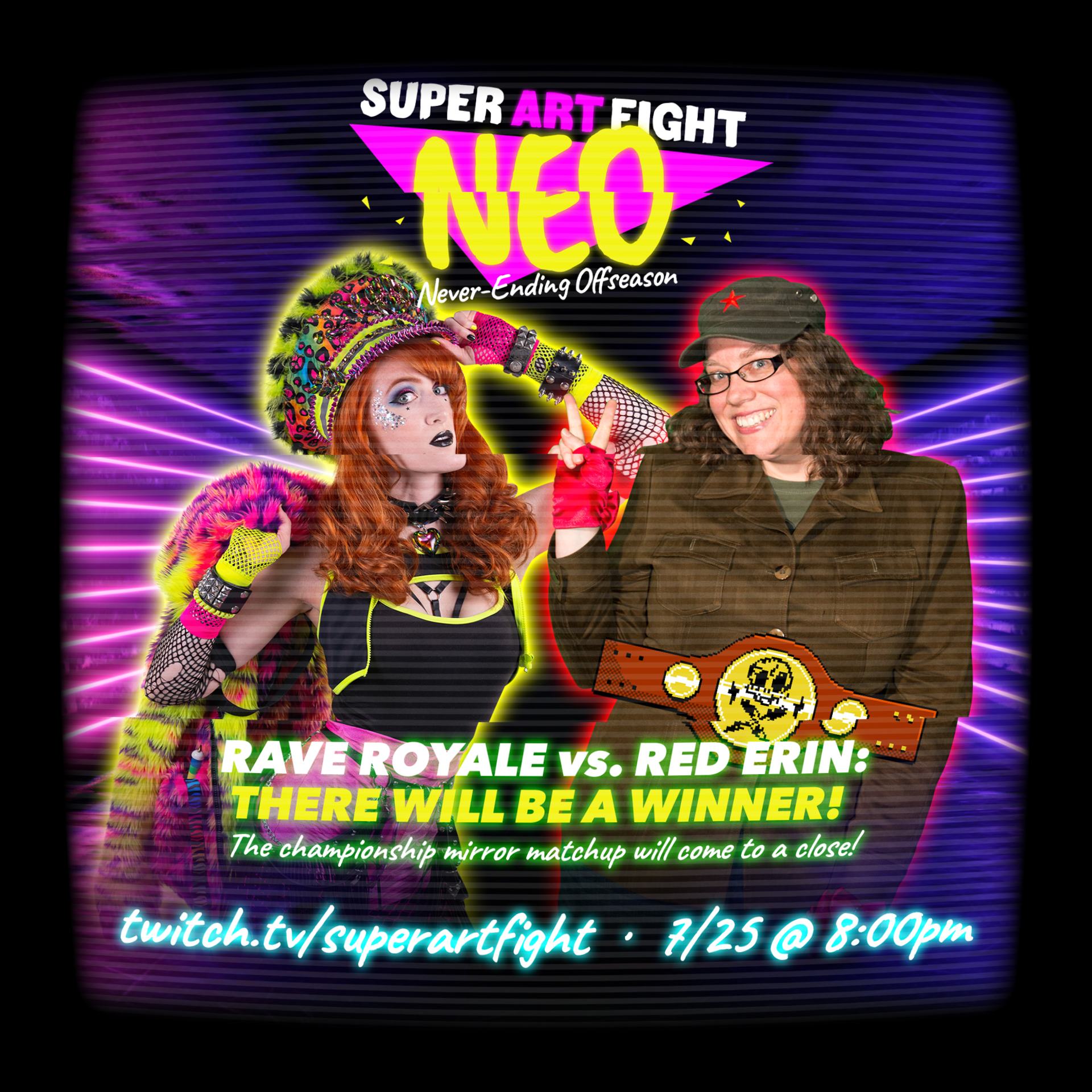 SAF Pixelweight Championship Red Erin (3-1-1) (Champion) vs. Rave Royale (2-1-1) (Challenger): THERE MUST BE A WINNER
At SAF NEO 6, Red Erin looked to ensure her legacy as the first-ever Pixelweight champion would get off on the right foot. Sure, Rave Royale was a formidable challenger, but no matter what, someone would win, and someone would lose. Right? We all found out the hard way, fate had a different plan for us all. Three Fan Votes. Three Fan Ties. This Saturday, the score will be settled, as the crafty veteran, Red Erin once again goes one on one with the mistress of ceremonies, Rave Royale, but this time: There Must Be A Winner. Should fan voting arrive at a tie, SAF Management has ensured a special backup plan to allow for a victor, but we want the fans to make the call: will Red Erin finally get her successful defense of the Pixelweight Title? Or will Rave Royale's tremendous rookie year get topped off with her first taste of SAF gold? Find out THIS SATURDAY!
All matches will be hosted by Ross Nover and Marty Day, and we cannot wait to see you all in the chat!
Join the fun THIS SATURDAY for Super Art Fight NEO 8!