Hard to believe, but as quickly as it began, we are fast approaching the end of the inaugural season of #SAFONLINE, the next generation of Super Art Fight, streaming live over Twitch!
It's been a hard fought season, with exciting moments and upsets a plenty, anchored by our first Round Robin Tournament, with five of Super Art Fight's best colliding.
For those who have missed the first four episodes, here is where our standings currently lie:
ROUND ROBIN TOURNAMENT STANDINGS (As of November 15, 2020)
Shoujo-A-Go-Go (3-0)
Bunny (2-1)
Red Erin (2-2)
Stevie Speed (1-2)
Baron Von Sexyful (0-3)
You probably couldn't have called it — Shoujo-A-Go-Go, after a 50/50 record in the Never Ending Off-Season, going undefeated, including delivering Red Erin her first-ever loss on the digital stage. And just as shocking? Super Art Fight ICON, Baron Von Sexyful going completely winless.
This Saturday Night, though, the artists have an opportunity to rise up and shake up the rankings, just in time for the Season Finale, coming up on Saturday, December 5.
SHOW LINEUP – #SAFONLINE S1E5, November 21, 2020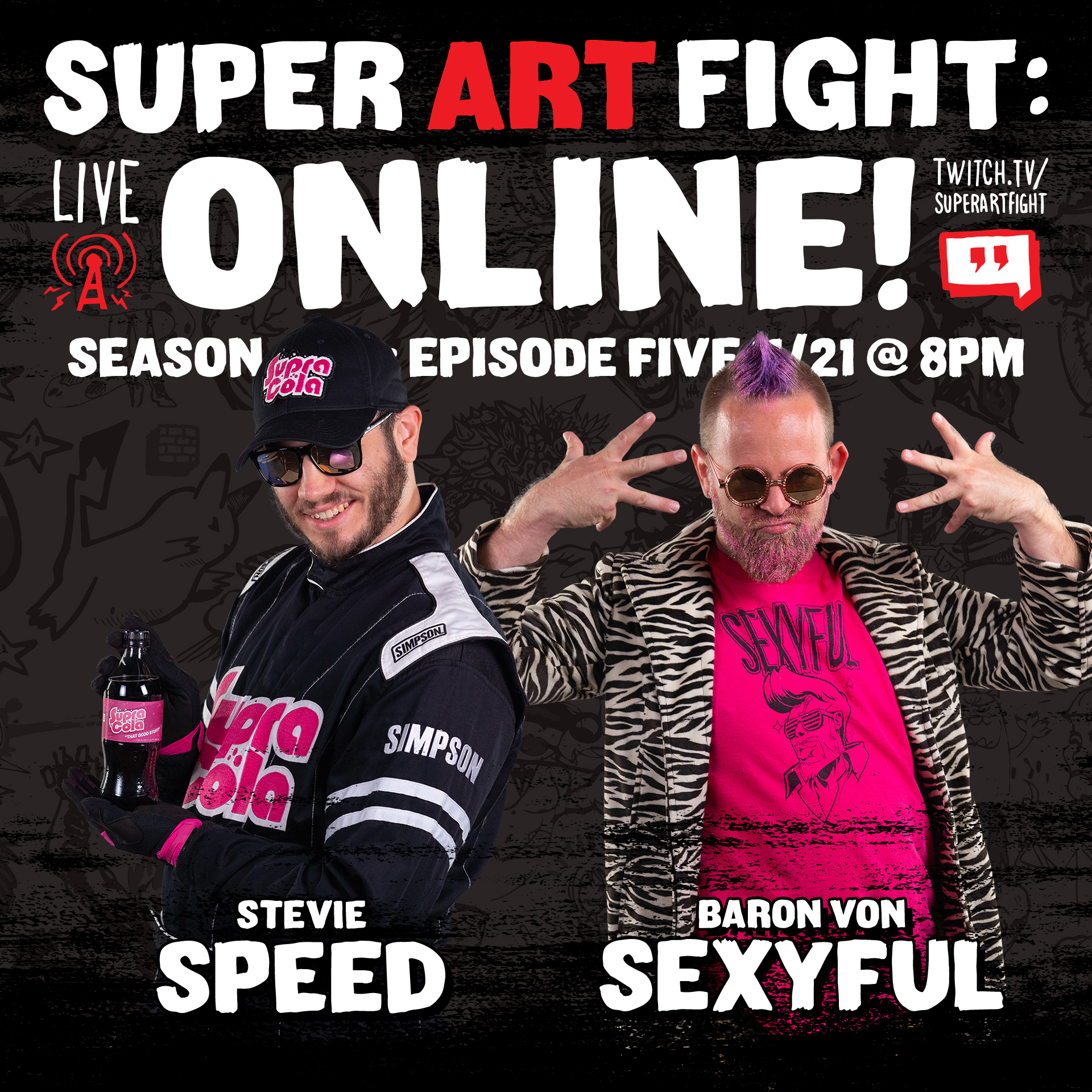 Baron Von Sexyful (0-3) vs. Stevie Speed (1-2)
Former tag team partners collide in this match which will undoubtedly define who will be heading to the Loser's Redemption match on December 5! Can Baron Von Sexyful finally snag a win, or will the new attitude Stevie Speed go out on top?
NON-TOURNAMENT: Charm City Shinobi, PhD vs. Rave Royale
Baltimore's favorite ninja returns to the SAF canvas, colliding with an absolute fan favorite in the Mistress of Ceremonies, Rave Royale! With Season 2 of #SAFONLINE hitting in Early 2021, both artists want to set themselves up for success in the next season, and a win here will put them in good with the SAF Championship committee!
Bunny (2-1) vs. Shoujo-A-Go-Go (3-0)
Just last week, we were looking at a tie for first with these two competitors, but with Bunny dropping to Red Erin and Shoujo-A-Go-Go continuing her winning ways over the Baron, the Round Robin Tournament once again proved itself unpredictable. That said, you're still looking at the two best records in the tournament so far, so could we be having a Round Robin Tournament Final Preview, ahead of December 5th?
It's an exciting night, one we cannot wait to share with you LIVE, as you spam the chat with emotes and vote your favs on to victory!
Want to join the fun when it hits, Saturday, November 21st at 8pm Eastern? You know what to do…