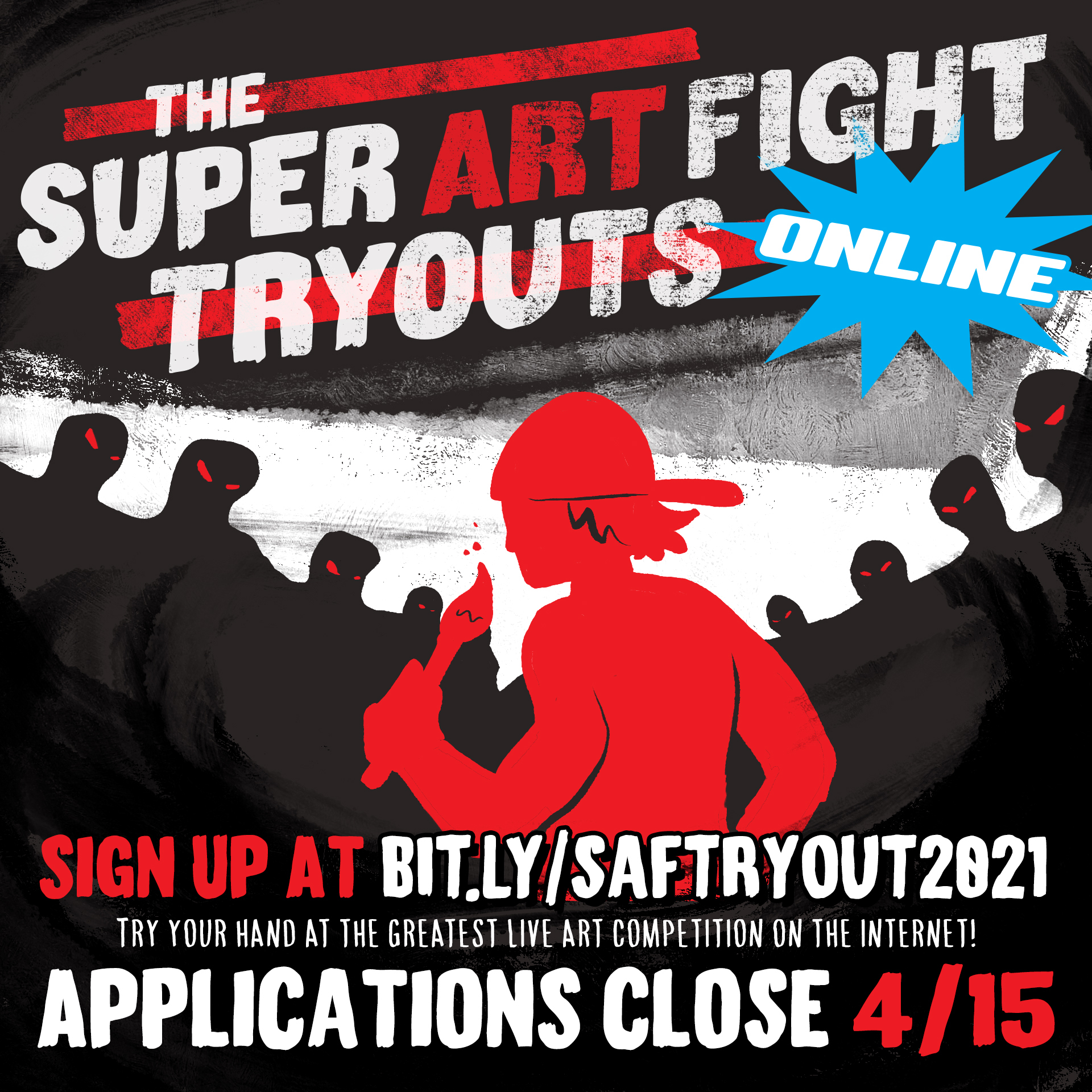 Have you ever wanted to be a part of Super Art Fight?
For the past thirteen years, Super Art Fight, The Greatest Live Art Competition in the Known Universe, has presented its unique blend of pro-wrestling and live art to audiences all across the globe.
Dozens of artists have created larger than life personas and tested their mettle against each other in front of some of the most excited and respectful audiences out there, and now, your opportunity to join the hallowed halls of SAF has arrived.
Starting today — April 1st, no foolin'! — applications are open to join Super Art Fight for highly anticipated 3rd season of #SAFONLINE, the beloved Twitch spin-off of the live event, which will be an ongoing tryout tournament pitting a new generation of artists against each other, and even against SAF favorites!
Some notes in advance of you clicking that big link below (which will forward you to Google Forms) and telling us about yourself:
This tryout is for the online version of Super Art Fight, meaning that unlike our other tryouts where we focused on adding members to our live event roster, meaning that you'd most likely want to be in the MD/DC/VA area. This is open to anyone, worldwide, so long as they are willing and able to be on a Twitch stream which goes live at 8pm Eastern Time on Saturday nights.
Don't stress too hard on your character idea! So long as you have a general idea, we can work with you to refine it.
Please, have access to a decent location for streaming, with a decent broadband connection, good lighting and a webcam. We know we're in the Zoom Meeting-era, but still worth mentioning.
You will need to supply your own way to create digital art — whether this is your own PC tablet, iPad or similar.
Please be at least 18 years of age.

Otherwise, the door is open. Get ready and…